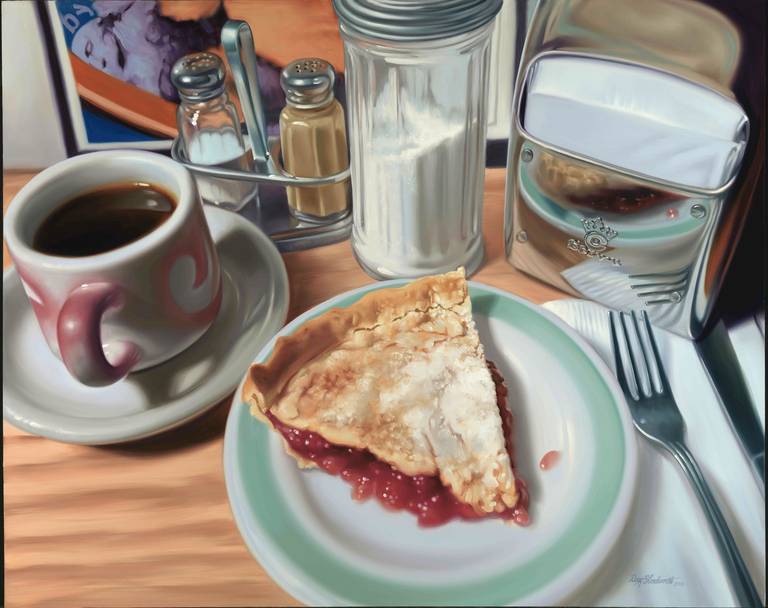 Can we talk about pies? It's the week for pies, not that every week isn't a week for a slice of pie, but Thanksgiving seems to bring out the latent baker in just about everyone. There is a subset of home cooks, however, who think holiday desserts are a throw away and either Aunt Mildred can bring it or Mrs. Smith can bake it or maybe no one will recognize those single serving Table Talk pies and think they're tarts. No one is fooling anyone here: either make the pie yourself or be honest and serve cake.
If you love pies as much as I do you might have made a small career out of eating slices of pie in any restaurant you happen to visit. The first question is always, "Are your pies made here?" If the answer is "no," I'm done. If you tell me you do make your pies but you use those cardboard pre-made crusts or something gluey out of a Sysco can, we're done. I'm a pie snob.
Which brings me to Mrs. Nault. When I was a young girl my country education included milking a cow, feeding chickens, churning butter, haying, bread baking and making pies. Lots of pies. Mrs. Nault baked everything and cooked everything on, and dried every wet mitten and hat over, an enormous Atlantic Queen, a giant black cookstove that dominated her Vermont kitchen. Electricity was a fickle thing so lanterns were at the ready and candles would sub for a little atmosphere on dark winter nights when the temperature dropped like a rock below zero and the bark on trees would explode from the cold. The wood for that cookstove was carried in by her husband, Perley, who insisted his "lovely bride" of fifty years made the best pies in two counties. Judging by the amount of company that appeared on the doorstep on pie and bread baking day, that was a modest assessment.
There are many ways to make pie crust but Mrs. Nault insisted pie crust was best made from lard and butter. Let's face it: if you're going to eat pie crust, go all the way and skip the crisco. And while you're at it, save the whole wheat flour for bread. I have nothing against healthy eating but we're talking about pie. Pie is dessert and the words "healthy" and "desserts" seem a bit at odds in the same sentence. After the horror of low fat and the misguided need to make the Cookie Monster eat carrots, leave pie alone.
If you take half butter and half lard, or all butter, and you gently flake it into some flour with a smidgen of salt and a little ice water, just enough to make the dough roll into a ball, than you have the makings of the perfect pie crust: flaky, tender, melt in the mouth. And if you chill that dough for a bit and gently roll it out from the center, and not in random directions hither and yon until it's beaten down and looks kind of grey and tough, you will have a lovely rolled out crust with bits of butter that will blend and meld.
Mrs. Nault taught me to use the freshest fruit, squeeze lemons for the best tasting lemon pies, grate bitter chocolate for deep flavored chocolate pies, use eggs a couple of days old for the highest meringue, seek out heavy cream with no preservatives for the loveliest whipped cream, and always use unsalted butter to make my crusts. This isn't foodie fashionista stuff. In a farm kitchen you use the best you have to hand and bake from the head and heart with a small recipe file of favorites. You don't need the Food Network and Rachel Ray to tell you the obvious or what you're doing wrong or how it would taste so much better if you spend a lot of money on ingredients and kitchen doodads you don't need.
We live in changing times. But there is a constant: a piece of homemade pie and a hot cup of good coffee. I think society fell apart when people stopped pausing their day for pie and coffee and a little conversation as their mid-morning break. Not some rushed Starbuck's coffee-ish drink with your name scrawled over the cup or something gobbled at your desk but time to sit down and stop. Just stop the noise. A small ritual that brings balance.
If you come to my house you're going to find a pie, whatever I felt like making that day, and I'll put on a pot of coffee and we'll sit down and have a chin wag. We'll wave our forks and talk about the weather and whatever else we ramble upon. I don't expect pie and coffee will lead to world peace but there was a time when a lot more problems were solved at the local diner than in the media.
Maybe we need a time machine to show us what we're missing in this contentious country where pie is relegated to the holidays and sitting down and conversing over a slice and a cup of coffee is a forgotten art.